Status reassessment of the gibbons:
Results of the Asian Primate Red List Workshop 2006

Thomas Geissmann, Gibbon Research Lab., Zürich
thomas.geissmann@aim.unzh.ch

September 2006
The status of East Asian primate taxa was reassessed for the IUCN Red List at a workshop held from September 8 - 12, 2006, in Phnom Penh, Cambodia. Reassessed topics included taxonomy, geographic range, population size, major threats, conservation measures, and conservation status using IUCN Red List categories and criteria.
The World Conservation Unionís Red List of Threatened Species (IUCN, 2006) presents a comprehensive review of the status of the worldís fauna. In order to reflect the changing status of, and threats to, animal species and subspecies, this databank requires periodic re-evaluation. One of a number of information-gathering workshops was organized to reassess the Asian primates Red List. It was held over the course of five days from September 8-12, 2006, in Phnom Penh, Cambodia in partnership with the IUCN/SSC Primate Specialist Group, the IUCN Global Mammal Assessment (GMA), and the Southeast Asia Mammal Databank Project of the Istituto di Ecologia Applicata of Rome University. It brought together experts on such diverse areas as taxonomy, distribution, threats on the ground, and conservation actions, in order to help review the data and conduct IUCN Red List assessments. The workshop built off of the extensive existing data on the regionís primates, with the goal of bringing in new knowledge, expertise, and technology in the hope that this information will make a significant contribution to the conservation of Asian primates, as well as help set a benchmark in our knowledge of these taxa.
The fully referenced results from the workshop will be made freely and publicly available on the web, in keeping with IUCN policy. The new Asian Primate Red List data will not be official before it will be posted on the web by IUCN, probably in February 2008 (Jan Schipper, pers. comm.).
Relevance for gibbons:
A comparison of the new assessment with the previous ones of 2000 (or 2003 for two of the gibbon species) reveals that 10 of 16 species and 9 of 12 subspecies - i.e. 86% of all gibbon taxa - have become more endangered within the last three to six years by at least one category of threat, and 39% of all gibbon taxa by two categories. A detailed review of the workshop's gibbon-related results will be published in:
Geissmann, T. (2007). Status reassessment of the gibbons: Results of the Asian Primate Red List Workshop 2006. Gibbon Journal 3: 5-15. Downloadable from www.gibbonconservation.org.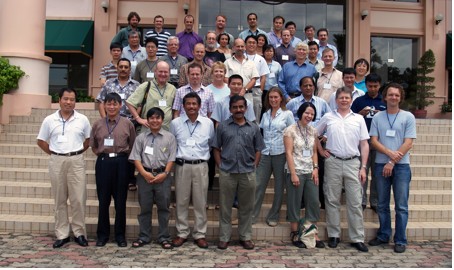 Participants of the workshop on the Asian Primate Red List, Phnom Penh, Cambodia, 12 September 2006.



Site by Thomas Geissmann.
For comments & suggestions, please email to
webmaster@gibbons.de
Gibbon
Network
Home: