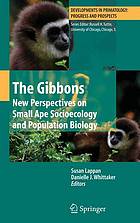 Lappan, S., and Whittacker, D. (Eds.). (2009). The gibbons: New perspectives on small ape socioecology and population biology, Springer, New York and London, xviii+523 pp.

ISBN 978-0-387-88603-9

List price: $134.00

Publication date: 26 June 2009

Description:
This volume consists of an edited compilation of papers describing recent research on the socioecology, population biology, and conservation status of the small apes. Iit will serve as a reference resource for researchers and students interested in the small apes specifically, as well as researchers interested in the gibbon perspective on a number of theoretical issues in primatology (e.g. mating systems, feeding ecology, biogeography, and conservation biology). As the volume includes research results from a diversity of small ape taxa, it will be useful for researchers interested in the diversity of adaptations displayed within the gibbon radiation, as well as those interested in specific taxa, and will be usable both as a compilation of individual articles and as a single document outlining the current state of research on wild gibbon populations.
Contents:
PART I -- INTRODUCTION.
The diversity of small apes and the importance of population-level studies

Danielle J. Whittaker and Susan Lappan
PART II -- BIOGEOGRAPHY.
Evolutionary relationships among the gibbons: A biogeographic perspective
Genetic differentiation of agile gibbons between Sumatra and Kalimantan in Indonesia

Hirohisa Hirai, ... [et al.]

Vocal diversity of Kloss's gibbons (Hylobates klossii) in the Mentawai Islands, Indonesia

Sally A. Keith, Melissa S. Waller, and Thomas Geissmann

Phylogeography of Kloss's gibbon (Hylobates klossii) populations and implications for conservation planning in the Mentawai Islands
Individual and geographical variability in the songs of wild silvery gibbons (Hylobates moloch) on Java, Indonesia

Robert Dallmann and Thomas Geissmann

The fossil record of gibbons

Nina G. Jablonski and George Chaplin
PART III -- DIET AND COMMUNITY ECOLOGY.
Hylobatid diets revisited: The importance of body mass, fruit availability, and interspecific competition
Competition and niche overlap between gibbons (Hylobates albibarbis) and other frugivorous vertebrates in Gunung Palung National Park, West Kalimantan, Indonesia

Andrew J. Marshall, Charles H. Cannon, and Mark Leighton

The seed dispersal niche of gibbons in Bornean dipterocarp forests
PART IV -- THE RELATIONSHIP BETWEEN ECOLOGY AND SOCIAL ORGANIZATION.
Ecology and the social system of gibbons
The ecology and evolution of hylobatid communities: Causal and contextual factors underlying inter- and intraspecific variation

Nicholas Malone and Agustin Fuentes

Seasonal home range use and defendability in white-handed gibbons (Hylobates lar) in Khao Yai National Park, Thailand
PART V -- MATING SYSTEMS AND REPRODUCTION.
Monogamy in mammals : expanding the perspective on hylobatid mating systems
Monitoring female reproductive status in white-handed gibbons (Hylobates lar) using fecal hormone analysis and patterns of genital skin swellings

Claudia Barelli and Michael Heistermann

Patterns of infant care in wild siamangs (Symphalangus syndactylus) in southern Sumatra
The social organization and mating system of Khao Yai white-handed gibbons: 1992-2006
PART VI -- CONSERVATION BIOLOGY.
Status and conservation of yellow-cheeked crested gibbons (Nomascus gabriellae) in the Seima Biodiversity Conservation Area, Mondulkiri Province, Cambodia

Benjamin Miles Rawson, Tom Clements, and Nut Meng Hor

The distribution and abundance of hoolock gibbons in India

Jayanta Das, ... [et al.]

Census of eastern hoolock gibbons (Hoolock leuconedys) in Mahamyaing Wildlife Sanctuary, Sagaing Division, Myanmar

Warren Y. Brockelman, ... [et al.]

The population distribution and abundance of siamangs (Symphalangus syndactylus) and agile gibbons (Hylobates agilis) in West Central Sumatra, Indonesia
Canopy bridges: An effective conservation tactic for supporting gibbon populations in forest fragments

Jayanta Das, ... [et al.]

The role of reintroduction in gibbon conservation: Opportunities and challenges
Saving the small apes: Conservation assessment of gibbon species at the 2006 Asian Primate Red List Workshop