Back to the Introduction index


German version
| | |
| --- | --- |
| 1. The Gibbons within the Hominoidea | |
General
The Hominoidea (apes and humans) are the less successful radiation of the catarrhine primates. According to the systematic arrangement used here, the hominoids include only 8 genera with a total of about 20 species. Their distribution is restricted to the tropical forests of Africa and South-east Asia (with the exception of the genus Homo). During early Micocene (about 22 million years ago), however, hominoid diversity was much larger and apparently surpassed that of the cercopithecoid sister group. Various species and genera of hominoid apes were widely distributed then, even in Europe.
Systematics

Figure 1.1. Position of the gibbons (Hylobatidae) in the phylogenetic tree of the primates.
The monophyly of the hylobatids and their basal position whithin the phylogeny of living Hominoidea are well established (Figure 1.1). The monophyly of the group consisting of the African apes (genera Pan and Gorilla) and humans (Homo), but excluding the Asian orang-utans (Pongo), is also well supported. Therefore, the term "great apes" does not represent a systematic unit. It is often used to represent a group consisting of the African apes and the orang-utans, but excluding humans. These apes have traditionally been united in the family "Pongidae". This grouping is based on similarity. Because humans are more closely related to some of its members (i.e. the African apes) than to its other members (i.e. the Asian orang-utans), the great apes do not represent a monophyletic group.
Unfortunately, even modern text books (e.g. Fleagle, 1999) still continue to group the great apes into the family "Pongidae". In spite of its long tradition, this arrangement lacks a systematic basis. In this text, I adopt a more consequent arrangement: All great apes are united with humans into the family Hominidae. If we wanted to remove any of the living apes from this family, the first alternative would consist in putting orang-outans - and orang-utans only - in their own family "Pongidae".
The phylogenetic relationships within the hominoid families Hylobatidae and Hominidae are less clear. Within the Hominidae, for instance, several molecular studies support a closer relationship between Homo and Pan, whereas Pan and Gorilla show several morphological similarities which seem to synapomorphic characteristics.
Table 1.1 presents a list of all currently recognized genera of Hominoidea.
Table 1.1. Families and genera of the Homioidea.
Family Hylobatidae
Genus: Hylobates
Small or dwarf gibbons, lar group
Genus: Hoolock
Hoolocks
Genus: Nomascus
Crested gibbons, concolor group
Genus: Symphalangus
Siamangs
Family Hominidae
Genus: Homo
Humans
Genus: Gorilla
Gorillas
Genus: Pan
Chimpanzees
Genus: Pongo
Orangutans
Characteristics
The Hominoidea share several primitive characteristics of catarrhine primates with their sister group, the Cercopithecoidea ("Old World monkeys"), including:
As in all catarrhine primates, the ektotympanic ring is drawn out to form an external bony auditory meatus.
The bony palate and the nasal apertures are relatively broad relativ broad.
The dental formula in hominoids is the same as in all other catarrhine primates: 2.1.2.3 / 2.1.2.3.
The Hominoidea differ from their sister group, the Cercopithecoidea, in retaining several probably primitive catarrhine characteristics, which include:
Molar pattern: Living homioid primates exhibit a simple Y5-pattern in the lower dentition; the upper molars have 4 cusps with a diagonal crest (crista obliqua). Compared to the Cercopithecoidea, the Hominoidea exhibit a more primitive molar pattern without bilophodont shearing crests (Figure 1.2). The lower molars are distinguished by an enlarged talonid section and by 5 main cusps. If viewed from the lingual side, the grooves between the cusps take a y-shaped form, which explains the name Y5-pattern.The upper molars are of a more or less square shape. They are derived from the hypothetical primitve molar pattern of anthropoid primates in that the originally three-cusped tooth was "upgraded" to a four-cusped tooth through the enlargement of a minor supplementary cusp (hypoconus), which, however, remained separated from the rest of the occusal surface by an oblique shearing crest, the crista obliqua.
The anterior lower premolar varies in its form from a long shearing blade in gibbons (sectorial front dentition) to a two-cusped "molarised" tooth in humans. Most hominoid primates have relatively broad incisors. The canines are more variable than those of the Cercopithecoidea, both in their shape and in the extent of their sexual dimorphism.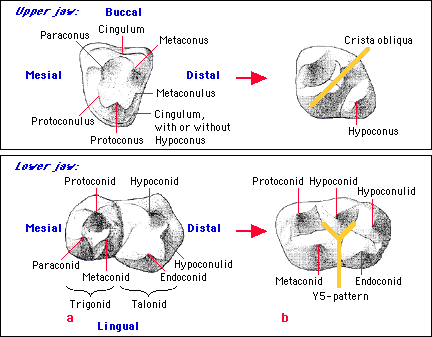 Figure 1.2. Evolution of the hominoid molar pattern (b) from the hypothetical molar pattern of primitive anthropoids (a) (after Ankel, 1970, p. 79).
The Hominoidea also differ from their sister group, the Cercopithecoidea, in several synapomorphic specialisations. Hominoid brains, for instance, are relatively big in relation to body size. Most derived hominoid characteristics are found in the postcranial skeleton. Many of them appear to be related to a more upright body posture adopted during certain forms of locomotion (bipedalism, suspensory locomotion):
The thorax is broadened and the vertebral column is slightly shifted away from a dorsal position towards the center of the thoracal cavity (Figure 1.3). The latter characteristic is most strongly developed in humans.
The scapulae are shifted away from a position lateral of the thorax to a more dorsal position, and the claviculae, which connect with the scapulae, are elongated to match the new position of the latter (Figure 1.3).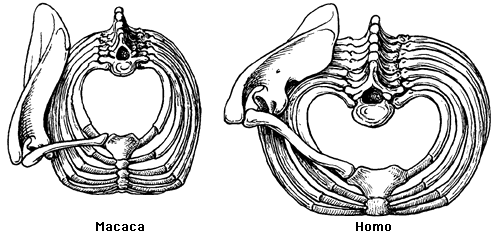 Figure 1.3. Thorax and right part of the shoulder girdle of a macaque and a human, proximal view, both brought to about the same size (after Schultz, 1972, p. 112).
The anterior extremities are relatively long. This usually results in high intermembral indices (Table 1.2), unless the posterior extremities are elongated as well. In fact, nonhuman hominoids exhibit the highest intermembral indices (>100) of all catarrhine primates. Humans, on the other hand, exhibit the lowest value (72). Their hindlimbs are highly specialised and elongated.
Table 1.2. Various genera of the Catarrhini, sorted by their intermembral indices (indices from Fleagle, 1999).

Intermembral index = (humerus length + radius length) x 100 / (femur length + tibia length); Abbreviations: Ce=Cercopithecinae, Co=Colobinae, H=Hominoidea

| | | | | | | | | |
| --- | --- | --- | --- | --- | --- | --- | --- | --- |
| Homo | H | 72 | Chlorocebus | Ce | 83 | Papio | Ce | 95-97 |
| Presbytis | Co | 75-78 | Miopithecus | Ce | 83 | Theropithecus | Ce | 100 |
| Lophocebus | Ce | 78 | Cercocebus | Ce | 83-84 | Pan | H | 102-106 |
| Colobus | Co | 78-79 | Macaca | Ce | 84-100 | Gorilla | H | 116 |
| Cercopithecus | Ce | 79-86 | Piliocolobus | Co | 87 | Hylobates | H | 126-130 |
| Procolobus | Co | 80 | Erythrocebus | Ce | 92 | Hoolock | H | 129 |
| Semnopithecus | Co | 80-83 | Nasalis | Co | 94 | Pongo | H | 139 |
| Trachypithecus | Co | 82-83 | Pygathrix | Co | 95 | Nomascus | H | 140 |
| Allenopithecus | Ce | 83 | Mandrillus | Ce | 95 | Symphalangus | H | 147 |
In the elbow joint, humerus and ulna exhibit a spool-shaped trochlea and a short olecranon process, respectively.
In the wrist joint, the carpal bones do not articulate directly with the ulna; instead, a fibrous meniscus separates the two bones.
The number of lumbal vertebrae is reduced, the number of sacral vertebrae is enlarged, and an external tail is absent (Table 1.3, Figure 1.4).
In the pelvis, the iliac bone (Os ilium) exhibits a broad iliac blade (Figure 1.4).
Table 1.3. Some vertebral numbers of selected members of the Anthropoidea (average values, after Schultz, 1961).


* Cacajao; ** several species of macaques (Macaca) have more or less estensively reduced tail; *** One species (Simias concolor) with stronlgy reduced tail

Cervical
Thoracal
Lumbal
Sacral
Caudal
Platyrrhini
Callitrichidae
7
13
7
3
29
Cebinae
7
12
5.5
3
26
Aotinae
7
14
7
3
25
Callicebinae
7
12
7
3
25
Pitheciinae
7
13
6
4
24 (13*)
Atelinae
7
14
4
3
29
Alouattinae
7
14
5
3
27
Cercopithecoidea
Papionini
7
12
7
3
20 **
Cercopithecini
7
12
7
3
25
Colobinae
7
12
7
3
26***
Hominoidea
Hylobates
7
13
5
5
3
Symphalangus
7
13
4
5
2
Pongo
7
12
4
5
3
Gorilla
7
13
4
6
3
Pan
7
13
4
6
3
Homo
7
12
5
5
4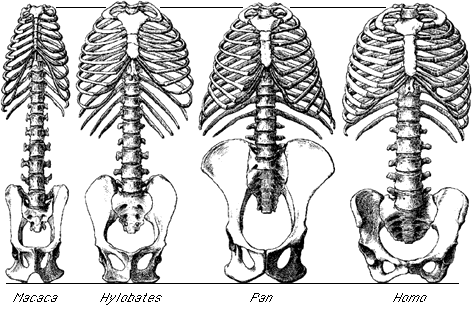 Figure 1.4. Ventral view of the rump skeleton of an adult female macaque compared to selected members of the Hominoidea, all brought to the same size (after Schultz, 1969, p. 78).
Ischial callosities reduced in size (Hylobatidae) or absent
Femur with broad condyles.
Feet with robust big toe (Hallux), excpet in orangutans (genus Pongo) (Figure 1.5).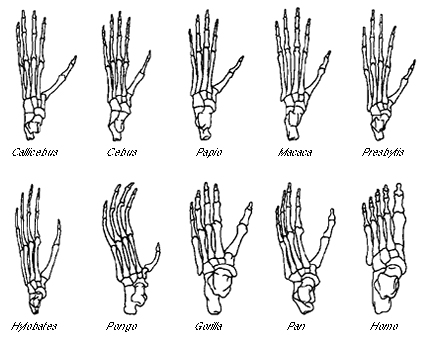 Figure 1.5. Foot skeletons from selected members of the Anthropoidea, all drawn to about the same length (from Martin, 1990, p. 495, after Morton, 1924).
Some of the postcranial hominoid characteristics mentioned above are summarized in Figure 1.6.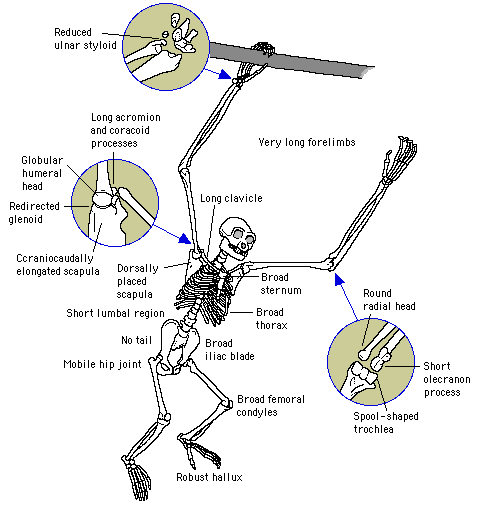 Figure 1.6. Characteristic skeletal features of extant Hominoidea, illutrated by a siamang (after Fleagle, 1999, p. 237).
Hominoids also differ from cercopithecoid primates in several behavioral and ecological characteristics. It is often unknown, however, whether these are derived hominoid traits or pimitive anthropoid features.
In general (relative to their body size) hominoid primates exhibit a longer gestation period and a longer maturation period (i.e. the time until they reach sexual maturity).
Hominoid social structure is normally organized around matrilines, and the females don't usually stay in their natal groups. When forageing for food, several species appear to adopt a fission-fusion-organisation.